There are several ferries operating in the Lyngenfjord region.
For more information and updated travel info, please visit: www.tromskortet.no
If you have any questions about the Lyngen or Ullsfjord ferry route, please visit www.tromskortet.no or call
the Lyngen ferry directly on +47 916 81 150
the Ullsfjord ferry directly on +47 915 53 643
Ferry schedule for Ullsfjorden and Lyngenfjorden valid from 01.01.2022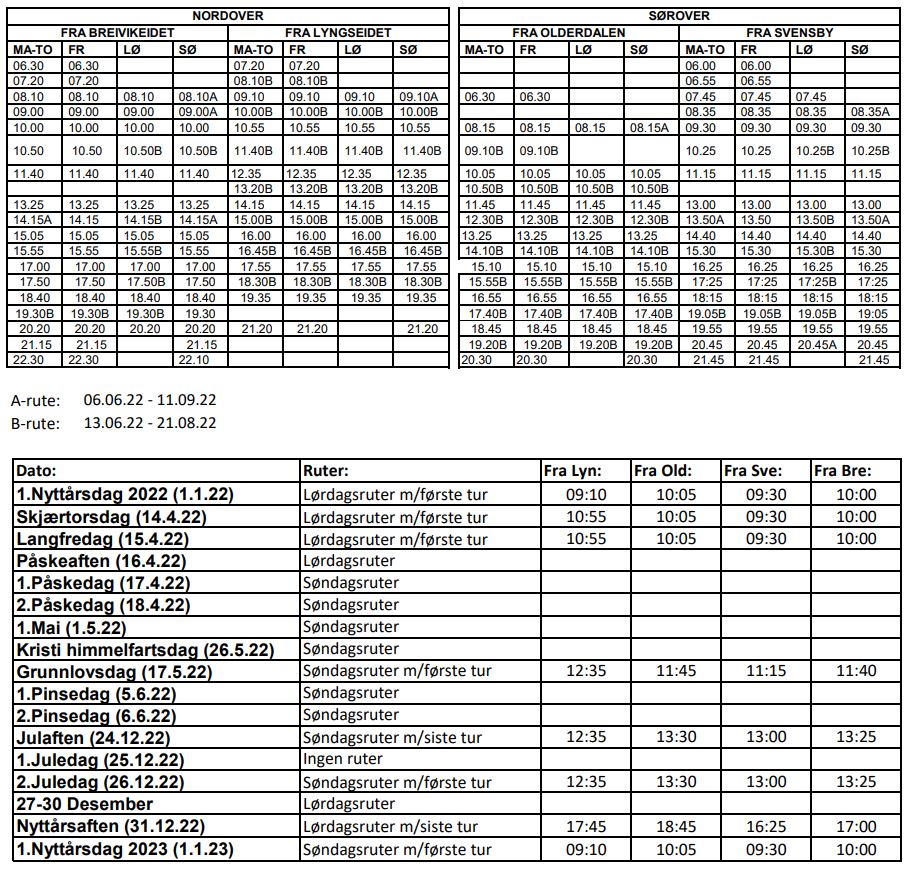 Translations:
Nordover: Travelling north
Sørover: Travelling south
Fra: from
Ma-To: Monday - Thursday
Fr: Friday
Lø: Saturday
Sø: Sunday
Lørdagsruter: Saturday routes
Søndagsruter: Sunday routes
m/første tur: with first trip
m/siste tur: with last trip
AutoPASS
On may 3rd AutoPASS will be introduced for all ferries in Troms and Finnmark county. 
What is "AutoPASS for ferry"
AutoPASS is a national automatic payment system for road tolls and ferries. You don't need an agreement or a tag to travel by ferry after 3 May. However, you must enter into a separate "AutoPASS for ferry" agreement to receive discounted prices.
Who does "AutoPASS for ferry" apply for?
"AutoPASS for ferry" applies for all ferry connections in Troms og Finnmark County. It applies to the transport of vehicles including driver. Passengers travel free.
How does "AutoPASS for ferry" work?
Vehicles on board are registered by scanning the number plates. In practice, the crew on board scan all the number plates and measure the length of the vehicles. The system then automatically identifies which discount agreement is attached to the vehicle. Any vehicles not attached to discount agreements will be invoiced the full price.
Can I pay on ferries by a means other than AutoPASS?
No. The current ticket system, which enables payment by cash, debit or credit card, travel card, corporate app and "Troms Billett" app, will be replaced by "AutoPASS for ferry". Therefore, after 3 May 2021, it will only be possible to pay by AutoPASS.
Do I need an AutoPASS tag?
No. You don't need an AutoPASS tag to travel by ferry in Troms og Finnmark County. However, if you don't have tag you, will automatically be charged the full price of the ferry crossing for your vehicle. The number plate will be scanned on board, and an invoice will be sent to the registered owner of the vehicle. An invoice will be sent for each ferry ticket. You must have an AutoPASS tag to have a discount agreement.
Price examples
Valid from 01.01.2022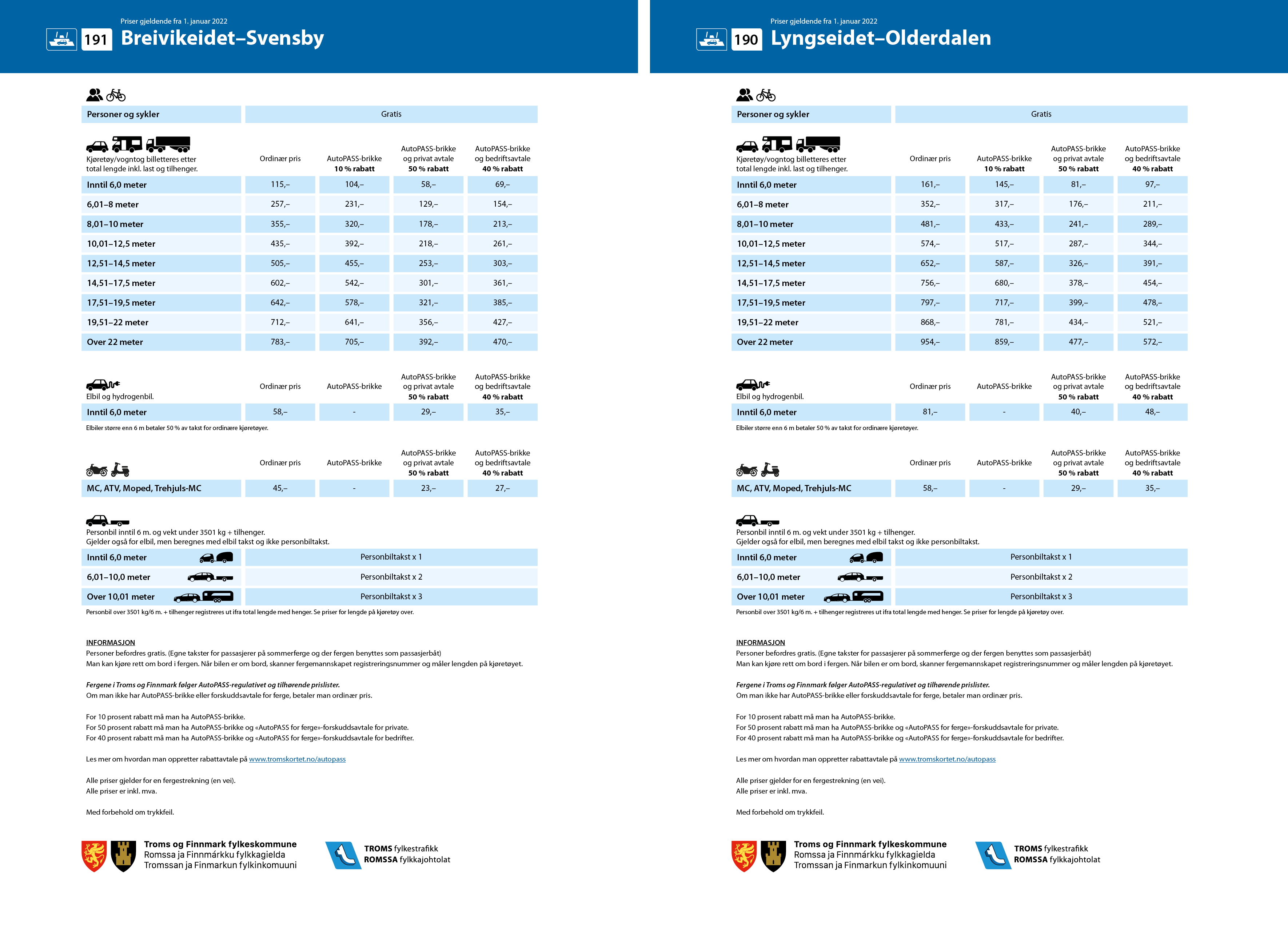 For other prices check Tromskortet here
Translations:
Fullpris: Full price
Forhåndskjøpt billett: Prepaid ticket
Uten brikke: Without AutoPASS tag
Med forskuddsavtale: With discount agreement
Med brikke: With AutoPASS tag